---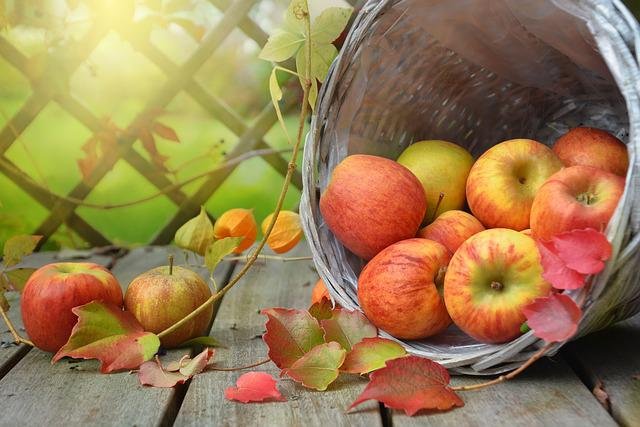 The richness in fiber, vitamins, antioxidant molecules and beneficial properties such as hypoglycemic, prebiotic and anti-inflammatory, make the apple the perfect ally for daily well-being. So let's discover all the properties of the apple and its benefits.
Low in calories and rich in properties, the apple is the fruit of the apple tree (Malus domestica), native to Central Asia. Today it is among the most widespread and cultivated fruits in the world, so much so that it is the most consumed in our country where it is present with about 2000 varieties.
---
Variety of apples
There are many varieties of apple that we can bring to the table, some more common and others less so. They originate in different countries and are characterized by color, texture and flavor. Some of these varieties are traditional, others are known for their trade name. Let's see below the characteristics of some of the most common varieties that we can find:
Stark red delicious apple: this is a very popular variety of red apple, especially in northern Italy. It has an irregular shape, a red skin and a floury and rather sweet pulp. Sometimes it is also called simply "Apple Stark", "Stark Delicious" or "Red Delicious";
Royal gala apple: This variety has a red skin with yellow undertones. The royal gala is a very common variety in our territory, it can be tasted both raw and cooked, it has a sweet and aromatic flavor and the pulp is crunchy, not floury;
Fuji apple: similar in appearance to the royal gala, the fuji apple comes from a cross between two types of apple, the Red Delicious and the Ralls Genetdal. This variety of apple has a crunchy and very juicy pulp, has a sweet taste tending to sour and is not very floury;
Annurca apple from Campania: typical of the Campania region, it is considered one of the most prized varieties. It has a red skin, with a slightly flattened shape, a crunchy pulp, not very acidulous and very juicy;
Granny Smith Apple: Originally from Australia, this green apple variety (one of the most common) has a crunchy and rather acidulous flesh. It is excellent for preparing fruit extracts and smoothies. It also lends itself well to cooked apple-based preparations;
Golden delicious apple: this is a variety of apple with a yellow skin with a rounded shape, quite common on our tables. It has a crunchy and juicy pulp and a slightly acidic flavor;
Rennet apple: this variety has a slightly flattened shape, with green / yellowish skin and dark spots, very common in South Tyrolean cuisine and is one of the ingredients of the famous apple strudel;
Emperor apple: this variety of apple has a reddish, slightly rough skin and has a sweet, soft and fragrant pulp.
Morgenduft apple: this is a typical variety of Trentino Alto Adige and has a red skin when fully ripe and yellow-green when it is still ripening. The pulp is juicy and the taste is sweet, slightly acidic. It lends itself well to being used for the preparation of cakes and desserts in general.
All apple varieties retain more or less the same nutritional properties. Rich in nutrients such as fiber, vitamin C, antioxidant molecules, low glycemic index and low in calories (about 52 Kcal / 100gr), the consumption of apples confirms the saying that "an apple a day keeps the doctor away". Let's see why.
---
Apples: calories and nutritional values
Apples are mainly composed of carbohydrates and water, are rich in simple sugars (such as fructose, sucrose, and glucose) but have a low glycemic index, 36, and this is certainly due to the good fiber content. A single medium-sized apple provides about 95 calories but contains 4 grams of fiber, which is 1/6 of the recommended daily allowance.
Taking the right amount of fiber daily is essential for several reasons: reduction in intestinal transit time and increase in fecal volume, increase in satiety, reduction in total and / or LDL cholesterol, reduction in blood sugar and / or postprandial insulin.
From the point of view of micronutrients, apples contain several vitamins (B1, B2, B3, Folate, Vitamin A and Vitamin C) and minerals (sodium, potassium, iron, calcium and magnesium). Among these, the components most present in the fruit are vitamin C and potassium.
There are also several substances that give the apple antioxidant properties. Among these we find in good quantities quercetin (anti-inflammatory, anti-viral, anti-cancer and anti-depressant role), catechin (famous for its presence in green tea, it acts by improving brain and muscle functions), acid chlorogenic (also present in green coffee, useful in reducing blood sugar and promoting weight loss).
Another component present in apples (especially in the peel) is malic acid, an anti-inflammatory and antioxidant substance which, according to several studies, would also help prevent cardiovascular diseases.
Nutritional values ​​per 100g of apples:
Waterfall: 86 g
kcal: 52
Proteins: 0.3 g
Fat: 0.2 g
of which saturated: 0.03 g
Carbohydrates: 13.8 g
of which sugars: 10.4 g
Fibers: 2.4 g
C vitamin: 4.6 mg
Glycemic index: 36
Cholesterol: 0 g
Potassium: 107 mg
Phosphorus: 11 mg
Choline: 3.4 mg
---
Apples: health benefits
Apple is notoriously a fruit rich in benefits. In particular, they are useful in slimming diets, lower cholesterol, prevent heart disease, help keep blood sugar under control and carry out a prebiotic action, promoting the health of the intestinal bacterial flora. Let's see below an in-depth analysis on the main properties of the apple and the benefits that regular consumption of this fruit brings.
✓ Apples promote weight loss
Thanks to the richness in fibers and the low caloric intake, apples are the ideal ally to keep us in shape and are fully included among the foods indicated in slimming diets.
✓ Apples control blood sugar and prevent diabetes
Responsible for this extraordinary property are not only the fibers but also the action of the antioxidant molecules that seem able to slow down the digestion of sugars, so that they are absorbed more slowly;
✓ Reduction of cholesterol and prevention of heart disease
There are several studies that show how the daily consumption of apples leads to a reduction in total cholesterol levels and consequently to a reduction in the accumulation of atherosclerotic plaques. The action seems to be mediated in particular by pectin, the soluble fiber of which apples are rich.
✓ Preventive effect of the apple
The phytonutrients contained in apples would be able to protect the body from the development of lung, breast and colorectal cancer. In particular, the action seems to be mediated by fisetin which would cause apoptosis (programmed death) of tumor cells.
✓ Prebiotic action
Apples contain pectin, a type of soluble fiber that acts as a real prebiotic, feeding and promoting the growth of positive bacteria present in the intestine, maintaining intestinal regularity and improving intestinal irregularities such as constipation and / or dysentery.
✓ Anti-asthma effect
Among the properties of apples we also find lung benefits. According to some studies, in fact, the antioxidants present in apples are able to protect the lungs from oxidative damage. In particular, quercetin would help regulate the immune system and reduce inflammation.
---
How many apples to eat per day
Like all fruits, one serving of apples is equivalent to about 150 grams or, more practically, a medium-sized fruit. In fact, a medium-sized apple can weigh about 150 to 250 grams (1 kg of apples are about 4-6 fruits). Eating an apple a day is enough to guarantee us all the benefits of these fruits. Remember, however, that the guidelines for healthy eating recommend consuming at least 2 portions of fruit per day. In this context, therefore, it is advisable to consume even 2 or more apples a day or consume them together with other seasonal fruit.
---
Apples: some tips on how to use them
Apples are very versatile in the kitchen and can be eaten raw, cooked, dried, in the form of 100% juices, but it is good to remember that the peel should never be discarded, as it represents a true concentrate of molecules with beneficial action for our well-being such as quercetin and anthocyanins. But, to avoid pesticides and bacterial contamination, it is a good habit to choose organic apples and in any case wash them well under running water before use.
Apples are also a great ingredient for making extracts or juices. For example, try a delicious juice made with an apple (of the granny smith variety), 2 medium carrots, a piece of fresh ginger and the juice of half a lemon.
Finally, remember that apples are an excellent ingredient for making jams.
---
Apples: contraindications and potential negative effects
Apples have no particular contraindications. They are generally a well-tolerated fruit, however they can cause some problems for people who are particularly sensitive to FODMAPs, the short-chain carbohydrates that some people are unable to digest causing bloating, gas production, stomach cramps, diarrhea or constipation. In addition, apples also contain fructose which can be problematic for people with intolerance to this sugar. In case of diabetes or hyperglycemia, the consumption of raw apples is recommended. Baked apples, on the other hand, are more suitable for those suffering from gastrointestinal problems.
---