---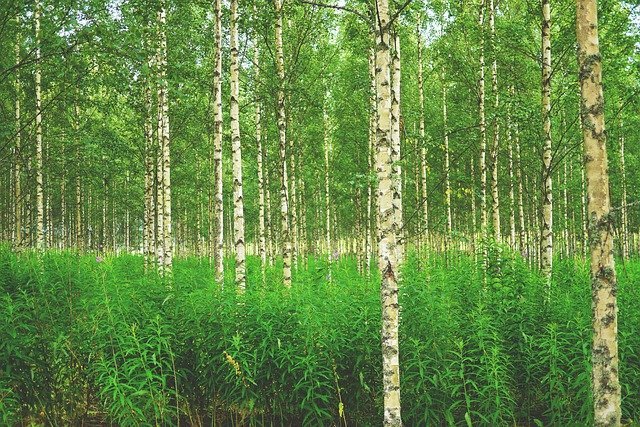 Birch essential oil: properties, uses for skin and hair care. Natural remedies and all the information on the benefits of birch oil.
Birch, botanical name Betula Lenta, has been long used for the production of wintergreen oil and is still popular in the perfume industry today. An essential oil with similar properties is that produced starting from the botanical species Betula Alba, known as white birch. The properties of these two essential oils are comparable even if the smell is slightly different. The smell of white birch vaguely recalls that of leather and tobacco. Birch oil is produced with a steam distillation technique and we remind you that the active ingredients of essential oils they are preserved only if the cultivation of the plants is performed in an optimal way as well as the production process must be carried out with extreme care.
---
Birch essential oil, properties
This essential oil is popular for its  analgesic properties: it is able to relieve muscle and joint pain. In aromatherapy, fumigations are recommended to relieve colds and mental tensions.
As stated, the rubefacient action is exploited in case of rheumatism, sciatica, arthrosis and arthritis: thanks to its rubefacient properties, this essential oil draws the blood into the most superficial layers of the skin, warming the inflamed areas and also improving their hydration and appearance. It is used as an anti-inflammatory and to soothe muscle pains.
Thanks to its draining properties it is often used to alleviate circulatory disorders, swelling, edema and a sense of heaviness linked to heavy legs syndrome.
Given its draining and stimulating properties of blood circulation (rubefacient action), birch oil is recommended for massages against cellulite and to counteract lymphatic stagnation.
Its antiseptic properties make it particularly suitable for the treatment of acne and thanks to its revitalizing action it can be used for the treatment of oily hair or with oily dandruff.
Its healing properties make it a good natural remedy for alleviating skin problems such as psoriasis.
---
Birch essential oil for skin and hair care
In hair care it combines well with cedar essential oil, especially in the case of alopecia or for those who need to stimulate hair growth.
To take advantage of the revitalizing properties of birch oil, you can make a pack with jojoba oil, essential cedar oil and essential birch oil. Thanks to this pack, the hair will be visibly brighter, nourished and hydrated. Thanks to the presence of jojoba oil, this treatment is suitable for both those with dry hair and for those with oily hair, dampening both defects that depend strictly on the activity of the sebaceous glands of the costro scalp.
For skin care, as stated, it is recommended in case of psoriasis, eczema, acne and oily skin. In case of dermatitis or eczema, an ointment to dab on the affected areas can be prepared by diluting various essential oils in 50 ml of sweet almond oil such as: 5 drops of birch essential oil, 6 drops of tea tree essential oil and 5 drops of lavender essential oil.
---
Birch essential oil, price and where to buy it
Birch essential oil can be bought in health food stores or in shops specializing in the purchase and sale of natural products. To get the best price it is possible to take advantage of mail order sales on the web: there are many ecommerce that offer this really cheap essential oil. Among the various offers, point out the 100% Pure Birch Essential Oil proposed at the price of $12 USD for the 50 ml bottle. The price is for free shipping.
Regardless of where you buy birch essential oil and its price, make sure it is 100% pure and unadulterated. In aromatherapy, the effectiveness of a treatment depends entirely on the quality of the product used.
---