---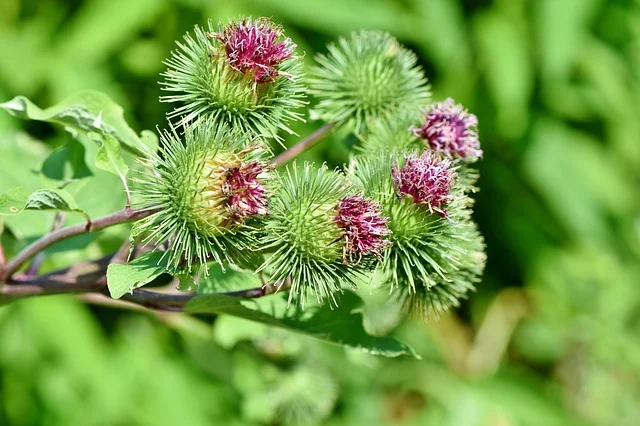 The mother tincture of burdock, extracted from the root of Arctium lappa, is laxative and antirheumatic, and performs a purifying action on the liver and purifying for the skin. Let's find out more.
---
Properties of burdock mother tincture
Arctium lappa root contains lignans, B-complex vitamins, amino acids, trace elements, bitter substances, tannins and resins; but above all it consists of inulin, a draining and purifying substance of the blood, which favors the elimination of toxins, that is, the "waste" of the different metabolic reactions of the organism.
The mother tincture of burdock is used in phytotherapy to support the liver in its purifying activity, as it stimulates biliary and liver function.
For internal use it is recommended in the presence of diabetes and hyperglycemia (in which case it should be taken under strict medical supervision); to fight cholesterol; rheumatism and gout, due to hyperuricemia, thanks to the hypoglycemic, hypocholesterolemic, laxative and antirheumatic properties.
The hydroalcoholic solution of burdock is also indicated in the treatment of skin disorders, related to biological and metabolic disorders, such as acne, dermatitis, eczema, seborrhea, dandruff and psoriasis, as it performs an antibiotic and anti-inflammatoryaction.
---
Description of the plant
Burdock grows in uncultivated and cool places, often along rivers and near hedges, in the temperate zones of Europe and Asia (including Japan).
Herbaceous plant, biennial, bushy, with a voluminous elongated root and numerous robust and branchy stems (1.50 m), furrowed by climbs.
The leaves, heart-shaped and very large at the base, are green on the upper page and greyish on the lower one.
The flowers of inconspicuous purple color, are gathered in corymbs, enclosed in a casing with hooked bracts.
---
How to prepare burdock mother tincture
The "drug" (used part) corresponds to the root, harvested from autumn to early spring. The freshplant is used, as it is dry and loses most of its properties.
The mother tincture of burdock is prepared with a drug weight ratio: solvent of 1:10 and alcohol content of 55% vol.
---
Utilization
The mother tinctures have no contraindications except those of the plant itself, diluted in a little water can be given to everyone, the alcohol contained in them is thus diluted, so it is harmless.
In case of diabetes with drug therapy, it should be taken under strict medical supervision,for the consequent interaction with synthetic hypoglycemic agents.
Internal use: 40 drops in a little water three times a day between meals. The recommended maximum daily dosage is 120 drops.
---