---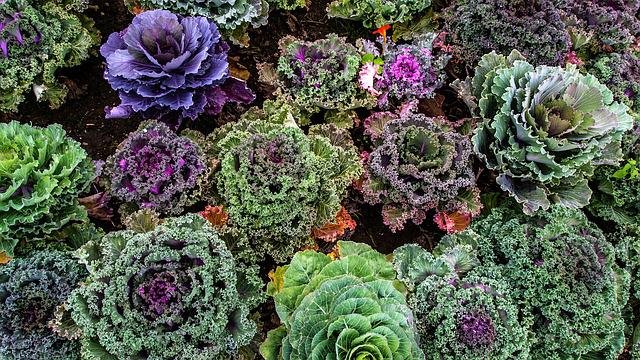 One of the most consumed vegetables today is kale. In fact, its consumption is becoming more and more popular since it is considered a superfood, that is, an ingredient that in a small quantity provides us with an interesting source of vitamins and minerals. In this article we want you to know better what the properties of kale are and thus understand why this vegetable has become one of the essentials in all the diets of people who opt for a healthy life. In addition, it is an ingredient that has a delicious flavor and that goes perfectly with a wide variety of recipes.
---
7 benefits and properties of kale
As we have already mentioned, kale is an ingredient that is considered a superfood. In its leaves we find a high concentration of nutrients that is essential to keep our body in perfect health and that we receive many beneficial vitamins and minerals for the body.
But so that you better understand all the benefits of this vegetable, here we offer you a list of the most outstanding properties of kale and that have made it considered a staple in our healthy diet.
Rich in antioxidants
One of the main properties of kale is that it is an ingredient that provides us with an interesting amount of antioxidants. This means that it helps us combat premature aging of the body and fight against free radicals that can affect our well-being and our health.
anti-inflammatory properties
Kale or kale is also considered a vegetable with anti-inflammatory properties. The reason is that it is rich in Omega 3 fatty acids that help us eliminate inflammation from the body. This property is ideal for dealing with body conditions such as arthritis, migraines or even asthma.
low in calories
It is one of the best vegetables to lose weight or take care of our line. The reason is that a whole cup of kale gives us only 36 calories and very little fat. This makes it a perfect ingredient for a diet to lose weight and to satisfy your appetite without gaining weight. In addition, thanks to its rich fiber content, it is a perfect food to digest food and reduce the presence of toxins in your body.
anticancer
Although it is not a benefit that has been 100% tested, the truth is that many nutritionists indicate that kale is an ideal food to prevent the appearance of some cancers such as breast, colon, prostate or cancer. stomach The reason is that it provides us with many antioxidants that slow down the degradation of the body and, at the same time, it has anti-inflammatory properties that help us enjoy better health.
Many of the antioxidant and anti-inflammatory compounds contained in kale work together, preventing the formation of colon, breast, bladder, prostate, ovarian cancer, as well as stomach cancer.
Kale is high in fiber
Another of the properties of kale is that it is an ingredient loaded with dietary fiber. Therefore, it gives us many benefits such as, for example, it improves intestinal transit, makes us feel satiated without having to eat large amounts of food, regulates cholesterol levels in the body, etc. In general, fiber is also great for keeping our bodies healthy and detoxified.
Rich in vitamin K
Within the great vitamin contribution that kale has, we must not fail to mention its interesting contribution in vitamin K. This nutrient is essential for the health of our bones and, therefore, will prevent us from suffering from conditions such as arteriosclerosis, heart attacks, lack of calcium in bone structure, etc.
Vitamin C
And another of the vitamins that kale gives us is C, which mainly acts as an antioxidant. This vitamin is ideal to strengthen the immune system and that we can enjoy better health. In addition, it also helps regulate blood pressure and prevent some degenerative diseases of old age.
---
Top 3 Kale Recipes
Now that you know the properties of kale, it is important that you get inspired to be able to take advantage of all its nutrients in your daily diet. There are many ways to enjoy the benefits of kale in your diet, but we are going to discover 3 good recipes that are easy to make and that will allow you to include this ingredient in a simple and delicious way. Take note!
Oriental Kale Salad
If you want to enjoy a different, fresh and healthy salad, you can prepare this recipe that is designed for 4 people. The ingredients you need are:
150 grams of kale
Olive oil
1/2 tablespoon soy sauce
1 teaspoon of sesame seeds
1/2 teaspoon black pepper
250 grams of smoked salmon
1 tablespoon peas
A pinch of wasabi (optional)
To prepare this recipe with kale, the first thing you have to do is wash the kale leaves well and cut the stems. Mix all the ingredients in a container so that the flavor is integrated into the salad. Place the salmon last, to present the dish well. Cut it into slices about 3 or 4 centimeters wide and pour a drizzle of olive oil on top. Clever!
kale with almonds
Another dish that is delicious and that will allow you to fully enjoy the flavor and nutrients of kale is this delicious recipe that is designed for 4 people. The ingredients you need are the following:
4 tender garlic
10 kale leaves
30 grams of raw almonds
Olive oil
Salt
Black pepper
The grains of 2 pomegranates
The first thing we will do is cook the kale leaves since, on this occasion, we will eat them cooked. But wash them well beforehand to prevent any remaining dirt from altering their flavor or nutritional content. It is best to steam them until you see that they are tender, usually it takes about 10 minutes. Once done, strain and reserve.
The garlic will have to be finely chopped and sautéed in a pan with plenty of olive oil. When they are ready, mix the lime in this oil and add the almonds. Sauté for 30 seconds so that they are impregnated with the flavor of the garlic and oil and remove. As a final touch, decorate with the grains of the pomegranate fruit to give it a surprising and delicious flavor.
Lentil and kale salad
Another of the best recipes with kale is this warm salad that is made with lentils and other vegetables. If you want to prepare a recipe for 4 people you will need these ingredients:
1 leek
500 grams of kale
1 clove garlic
30 cherry tomatoes
60 grams of cooked lentils
Mozzarella
Olive oil
Salt
Pepper
Sesame
Steam the kale leaves for a few minutes or until they are soft. Then you have to peel the leek and the garlic and sauté it in a pan with plenty of olive oil. Add the kale and adjust salt. Sauté again so that the flavors integrate.
Before turning off the heat, add the cherry tomatoes cut in half and stir a couple of times. Then remove. Now you must add the lentils that have to be already cooked and season them with a little oil and salt. You can present the lentils cold or hot, although the best thing is that they are cold so that when mixed with the hot base you can have a delicious warm salad.
Finally, cut the mozzarella and place it on top of your plate. Delicious!
---
Other names for kale
And we end this article to tell you about other ways to call kale. And it is that, many times, depending on the supermarket or greengrocer to which we go, it may be that this ingredient does not appear branded as "kale" and instead it does appear with other names. Here we discover them:
kale
curly collard greens
Kale
So a collard greens, a kale, and a collard greens are the same thing!
---