---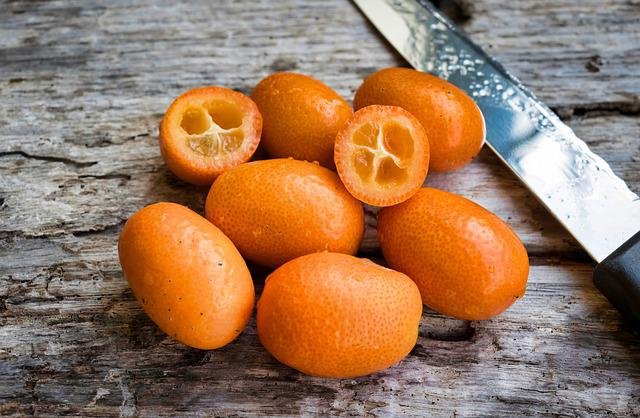 Kumquat, or Chinese mandarin, is a small fruit similar to orange that comes from China and Japan and is useful as an antioxidant and antimicrobial. It can be used for the preparation of excellent jams and meat dishes.
Kumquat is a little known fruit in our country, at least with its real name. In fact, it is often used as an ornamental plant and called " Chinese mandarin ".
It is a small evergreen tree (Citrus japonica), which produces small oval and orange fruits, belonging to the Rutaceae family. Its fruits, small and belonging to the citrus family. This is a big mistake because, as we will learn about in this article, they are particularly rich in compounds that are beneficial to human health and in Asian countries they are often used as folk medicine.
If you are intrigued by Chinese mandarin (sometimes also called kingen), you can try to cultivate it yourself: in fact, in addition to China and Japan, its cultivation is now widespread also in Europe and America. It needs quite hot summers, but it can also withstand the winter temperatures of the central-south of our peninsula. The only precaution is to repair it from cold winds, which it would not bear. The plant can now be found in the numerous nurseries scattered throughout our national territory.
The properties of kumquat are many: from antioxidant to antitumor and you can learn more about this topic in the dedicated paragraph. Let's now see the nutritional values ​​of this small citrus fruit.
---
Kumquat: calories and nutritional properties
As we anticipated, the consumption of this fruit is not very widespread in our country and it is difficult to find nutritional information regarding kumquat in the Italian databases (at least for now). We will therefore describe this fruit through data from US sources updated to 2020.
Like most fruits, the Chinese mandarin is also very rich in water, which represents about 80% of the macronutrients present in the fruit. The second most abundant macronutrient are carbohydrates (15.9 g per 100 g of raw fruit of which about 9.36 g of sugars), while proteins and fats are few. This is why kumquat is a low-calorie fruit. The calories of the Chinese mandarin, in fact, are only 71 Kcal / 100 gr, which makes it a fruit that can also be used by those who follow a low- calorie diet.
The total fiber content is appreciable, also considering the fact that, as we will see later, this fruit is eaten with the peel: we find 6.5 g of fiber in 100 g of Chinese mandarins.
From the point of view of micronutrients and vitamins, Kumquat is rich in vitamin C (a hallmark of the citrus family to which it belongs): 100 g of Chinese mandarins provide about 44 mg of vitamin C. If we think that the daily requirement of an adult man is 105 mg and of an adult woman of 85 mg, we understand well what help this small fruit can give us!
It also contains appreciable quantities of calcium, magnesium, iron and copper (respectively equal to 6%, 8.3%, 8.5% and 10% of our daily requirement). On the other hand, it is very low in sodium and therefore also suitable for diets for hypertension and pregnant women at risk of gestosis.
The following table summarizes all the nutritional properties as reported by the USDA database.
Nutritional values ​​per 100g of Kumquat:
Waterfall: 80.85 g
Power: 71 kcal
Proteins: 1.88 g
Lipids: 0.86 g
Carbohydrates: 15.9 g
Sugars: 9.36 g
Fiber: 6.5 g
Soccer: 62 mg
Iron: 0.86 mg
Magnesium: 20 mg
Phosphorus: 19 mg
Potassium: 186 mg
Sodium: 10 mg
Zinc: 0.17 mg
Copper: 0.095 mg
C vitamin: 43.9 mg
Thiamine: 0.037 mg
Riboflavin: 0.09 mg
Niacin: 0.429 mg
Total folate: 17 ug
Vitamin A, RAE: 15 ug
---
Kumquat: the health benefits
In a review dated 2017 the properties of the Chinese mandarin and the content of antioxidant molecules of this small fruit were studied in depth. This article emphasizes the presence in this fruit of the C-glycoside, which is not so abundant in the other better known citrus fruits. This flavonoid shows multiple beneficial activities such as antioxidant, anti-inflammatory and antitumor. We see below in depth all the properties of Chinese mandarins reported in the literature.
✓ Antioxidant activity
Like many other citrus fruits, Kumquat also has antioxidant activity linked to the presence of falvonoids, both C-glycosides and O-glycosides. The flavonoid content of Kumquat differs greatly from other citrus fruits and this fruit has shown excellent antioxidant activity. This activity seems to increase after the unripe fruit has dried.
✓ Antimicrobial activity
The bactericidal effect of this precious fruit has also been studied, with surprising results. The Kumquat extract in hot water, in fact, has shown an inhibitory effect especially against the growth of Gram negative bacteria, including Bacillus cereus, one of the microorganisms responsible for many food poisoning. Other bacteria whose growth has been inhibited by the use of Kumquat extract are Listeria monocytogenes and Staphylococcus aureus.
✓ Inhibitory activity of tyrosinase
Tyrosinase is an enzyme which, among various reactions, catalyzes the transformation of tyrosine into melanin at the level of melanocytes. Tyrosinase inhibitors are therefore able to inhibit skin hyperpigmentation in humans and to suppress fruit browning. Some of the compounds contained in Kumquat, especially DGPP (a flavonoid contained in kumquat) have been shown to have inhibitory activity against tyrosinase.
✓ Antitumor activity
Several studies have been carried out to verify the anticancer effect of Kumquat. Kumquat extract has been shown to inhibit the growth of prostate cancer cells. In fact, in this study, the cytotoxic action of kumquat was demonstrated both in vitro and in vivo. In this case the authors suggest that to benefit from the anticancer effect it is useful to consume the fruit raw.
✓ Effect on the metabolic syndrome
The use of Chinese mandarin extract has also shown benefits in the case of obesity. In particular, an improvement in hyperglycemia, hyperlipidemia and hepatic steatosis was shown in a study conducted on mice fed a diet rich in fat.
✓ Benefits for the respiratory tract
Although not yet reported in scientific studies, it seems fair to point out that in traditional Chinese medicine, Kumquat is used for diseases of the respiratory tract (cough and cold): the effect is probably linked to both the vitamin C content and the antimicrobial effect demonstrated by this fruit.
---
Chinese mandarin: how to eat it, how to choose it and how to use it
We sincerely hope that at this point of reading you are wondering how to eat Chinese Mandarin. You will have already been able to guess from the indications we have given you previously that it can be eaten both raw and dried or cooked.
---
How to eat Chinese mandarin
Generally this fruit, unlike the rest of citrus fruits, is eaten with the peel: you don't have to worry about how to open it or how to peel it. Eating Chinese mandarin unpeeled also allows us to consume a greater amount of phenolic compounds. So be careful to wash the fruit well and, if you buy it in stores, it is preferable to buy fruits from organic farming.
---
How to choose kumquat
When choosing the fruits it is also good to pay attention to the degree of ripeness: the small mandarin must be orange and not show green traces (typical of the still unripe fruit). Furthermore, the consistency must be soft, although not excessively. Furthermore, also avoid buying overly ripe fruits, with wrinkled skin or dark spots: as we have seen, overly ripe fruits would bring less beneficial properties.
---
How can you use it in the kitchen
In cooking, this small fruit can be used in a similar way to that of other citrus fruits: it goes very well with meats, especially the fattest ones such as duck. The sweet and sour taste of Kumquat will in fact give us freshness.
Another way to consume it is dehydrated: in this case the fruit will lose all the water and will concentrate vitamins, minerals and sugars. So be careful to consume it in excess because the sweet-sour taste of the fruit could mislead you. This type of kumquat is also the easiest to find and it is possible to find it in some shops or markets of spices and dehydrated fruits.
Two other fairly common preparations are kumquats in syrup and kumquat jam, which can complement a sweet breakfast or in turn combine with savory preparations with a slightly exotic taste or excellent cheeses. These last dishes proposed can also find the approval of those who do not like the sour taste of the raw pulp of kumquat.
---
Contraindications of Kumquat
The contraindications of kumquat are not fully known, being a not very common fruit. As with all citrus fruits, however, we advise those suffering from gastritis or reflux to consume it carefully to avoid unpleasant unwanted effects. In addition, kumquat may interfere with the activity of some drugs: statins, buspirone, sertraline and saquinavir. Therefore, if you take any of these drugs, please contact your referral specialist.
---
Where is the Kumquat located
At this point you just need to understand where to find it : the products deriving from kumquat are easily found on the market, in some organic shops or through various online portals. As for the fresh fruit, it is possible to recover it in some farmers' markets or thanks to some large suppliers and their distribution services (also in this case you can search on the internet). Once you have bought the fresh fruit, you can keep it like other fruits in a cool and dry place, away from heat sources.
However, a piece of advice that we want to leave to all those who have an outdoor space is to buy and grow a Chinese mandarin plant : you can enjoy its beauty and its goodness!
---