---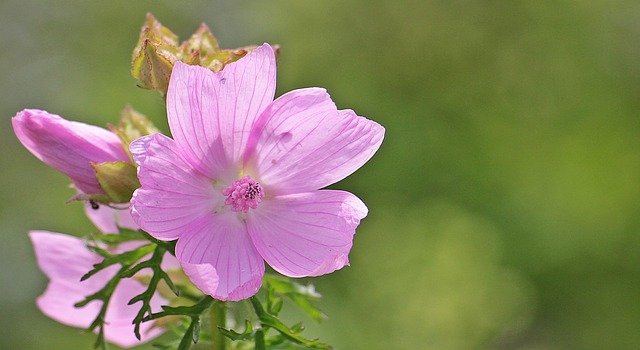 The mother tincture of mallow is a panacea for the inflamed intestine and to relieve stomach aches. Let's find out better.
---
Properties of mallow mother tincture
Thanks to the properties of its active ingredients (mucilage, anthocyanin, malvin -in the flowers-, vitamins A, B1, C, caffeic and chlorogenic acids, flavonoids, polysaccharides), the mother tincture of mallow is a remedy with emollient and anti-inflammatory characteristics, useful against cough, but also to regulate bowel function.
The flowers, in particular, contain tannin, glucose, calcium oxalate, anthocyanins such as malvina and traces of an ethereal oil. These active ingredients act by coating the mucous membranes with a viscous layer that protect them from irritating agents, therefore the product is indicated to hydrate, exfoliate the colon and purify the intestine, and to regulate its functions, thanks to its gentle laxative action.
Furthermore, mallow is appreciated for balancing the functionality of the oropharyngeal mucosa, it carries out an emollient and soothing action also on the functionality of the digestive system, giving fluidity of bronchial secretions. The tincture has a bland, slightly salty flavor.
---
Description of the plant
Mallow is a perennial plant with a bushy, erect and prostrate habit. The stem (60-80 cm), woody at the base, bears petiolate leaves with 5-7 lobes, with toothed margin, covered with hair.
The flowers, which appear at the axil of the leaves, are purplish-pink with darker streaks. It is frequent to see it grow spontaneously in the meadows and in uncultivated places of the plains and hills, it often arises spontaneously also in vegetable gardens and gardens.
It is widespread in the Mediterranean area and in Italy it is also present in mountainous areas up to 1300 meters above sea level and there are different varieties.
---
How to prepare the mother tincture of mallow
The mother tincture of mallow is a hydroalcoholic preparation obtained by cold maceration in hydroalcoholic solvent, obtained from the whole fresh plant.
---
Usage
According to traditional use, the mother tincture of mallow is used to relieve gastric and stomach problems and disorders related to poor digestion, such as swelling and intestinal difficulties, wherever there is a need for a soothing action on inflamed mucous membranes; it also protects against seasonal allergies, respiratory and cold problems, weakening of the immune system, diseases of the respiratory system.
The advice is to take about 50 drops of tincture three times a day between meals, always following the advice of an expert or a doctor.
Mallow is a remedy that generally does not present any type of contraindication, as long as it is not abused or is unaware of intolerances towards the constituent principles of the plant such as malvina and malvidina. It has an interaction with the intake of some medications, such as oral antidiabetic drugs.
---