---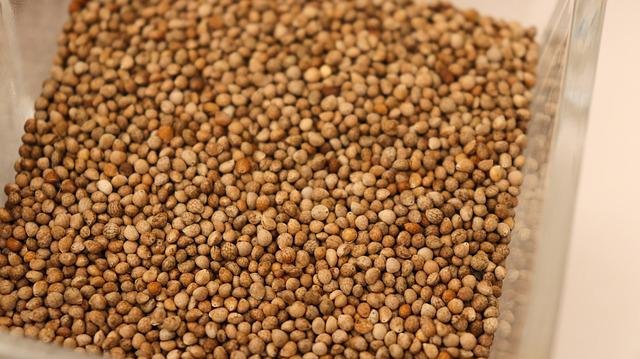 Perilla oil is a precious natural remedy appreciated above all for its Omega 3 content. Let's find out all the benefits and how to best use it for the health of the body and skin.
A precious oil rich in properties is extracted from the plant botanically known as Perilla Frutescens, of the Labiate family and widespread above all in China, Korea, Japan and India.
Perilla oil, yellow in color and rather transparent, is obtained in particular from the cold pressing of the seeds and is characterized by its content in polyunsaturated and monosaturated fatty acids but also polyphenols, vitamin E and phytosterols. All these active ingredients give it interesting properties.
---
Perilla oil: properties and benefits
Perilla oil, if used correctly (even for external use), can offer various benefits to our body. It is in particular its high content of alpha linolenic acid (Omega 3) that makes this oil an interesting natural remedy.
✓ Omega 3 supplement
Often in our daily diet we do not take enough Omega 3 but instead we fill up with Omega 6, much more common in different foods. As is now known, however, to obtain the maximum benefits, these two essential fatty acids must be in the right ratio. Here then, especially if you do not regularly consume fish or foods rich in Omega 3, it may be necessary to take a natural supplement. Among the various possibilities there is precisely the perilla oil.
✓ It is anti-aging
Given the presence of precious antioxidants, including vitamin E, perilla oil is a powerful anti-aging agent that fights free radicals and improves the internal and external health of the body. Obvious benefits are also noticeable on the skin.
✓ Regulates cholesterol and triglycerides
Polyphenols and phytosterols, as well as the Omega 3 themselves, help to keep cholesterol values ​​in the blood at bay, in particular the bad one, and ensure that the heart and circulation gain health.
✓ Anti-inflammatory and antihistamine
This oil allows to lower the degree of inflammation in the body but also acts as a natural antihistamine, therefore useful in case of seasonal allergies.
---
Uses of perilla oil
The properties of perilla oil can be exploited in many areas of health. The uses of this natural remedy are varied: in some cases it is necessary to take the oil by mouth using pearls or capsules, in others (for example to treat dermatological problems) it is used externally.
1. Fill up on Omega 3
An integration of perilla oil can be useful for those who do not get enough Omega 3 with their diet (insufficient consumption of fish or oil seeds) but also for those who want to keep cholesterol and triglycerides under control.
2. Against seasonal allergies
An interesting use of perilla oil internally is that which sees it as the protagonist among the natural remedies against seasonal allergies alone or in combination with currant nigrum or other herbs and plants.
3. For inflamed skin
Perilla oil is also used for relaxing massages or to treat skin that is inflamed due to eczema, dermatitis, psoriasis, hives or other problems. Its potential can also be exploited in the treatment of cellulite and stretch marks.
4. As an anti-wrinkle
If you want to counteract the advance of wrinkles, you can use perilla oil instead of normal creams. A few drops are enough to apply morning and evening. Often this oil is also used in DIY beauty creams and masks for face and body with an emollient but at the same time antioxidant effect.
---
How to take perilla oil
If you choose internal use, you must refer to the doses indicated on the packaging or to what has been advised by the expert who prescribed this remedy. Generally the dose is 1 or 2 pearls per day, however it is important never to exceed 4 grams of product per day. It is recommended to take pearls of perilla oil with water before main meals.
If, on the other hand, you find the bottle of oil in bulk, you can take a teaspoon of it before meals once a day, or use it to dress dishes or salads.
---
Perilla oil: sale and price
Perilla oil can be bought in herbal medicine or pharmacy but also in organic shops that have a department dedicated to natural health as well as obviously in online shops.
The possibility of finding the bottle of oil is really rare, but it is much easier to buy it in the form of pearls or capsules also because in this way it is preserved more easily. The price of a pack of pearls of perilla oil starts from about 15 USD but can vary depending on brands, quantities and any combinations with other oils or natural substances used together with the perilla.
---
Perilla oil: contraindications
Perilla oil used externally has no particular contraindications except rare hypersensitivity towards the plant from which it is obtained. The situation is different if you intend to take perilla oil by mouth. In fact, as side effects, diarrhea, nausea or abdominal cramps can occur, albeit very sporadically.
For internal use it is always contraindicated in case of pregnancy and lactation, care must be taken even if you suffer from diabetes or if you are taking drugs, especially anticoagulants as perilla oil, thanks to the omega3 content, acts as an antithrombotic and antiplatelet agent and therefore, interactions may occur with this type of drug. Ask your doctor for advice before using this or any other natural remedies.
---