---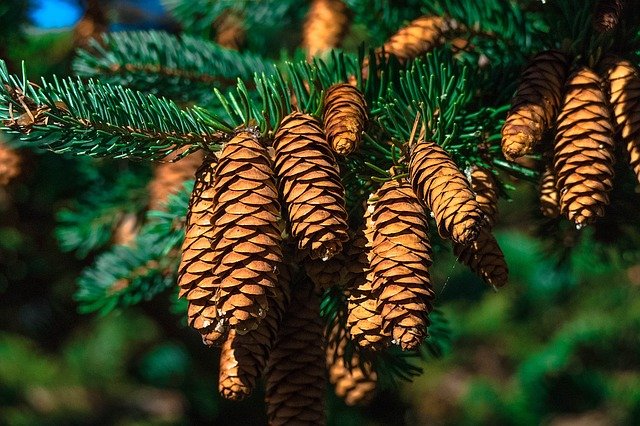 Scots pine essential oil: properties, uses, natural remedies and production of this essential oil.
The essential oil of Scots pine is fresh and invigorating, it can be used for the composition of creams and lotions, ointments to improve circulation and relieve muscle pain. It is famous for its antibacterial properties and for its fragrance used for the preparation of shower gel, aftershave and other cosmetics.
In aromatherapy, its use is recommended in case of cough and congestion, especially in combination with essential oil of thyme and essential oil of eucalyptus.
---
Production of essential pine oil
If you are wondering how to make essential oils at home, there is a home method. In particular, the essential oil of pine is extracted from the pine cones, needles and twigs of the botanical species Pinus silvestrit with a dry distillation method.
Most essential oils are obtained from the vegetable parts of plants with the steam distillation technique. Steam distillation gives good yields of the oily substance obtained, which must then be purified with further treatments. For more information on how to make essential oils at home, please refer to the article dedicated to the technique of steam distillation.
---
Pine essential oil, properties
Scots pine essential oil is popular for its tonic, expectorant and antiseptic properties. In aromatherapy it is recommended against stress, respiratory tract diseases and cystitis.
Remedy against fatigue and decreased libido
The toning properties can be useful for those who struggle to get out of bed in the morning. Widespread in the bedroom, it is used to relieve fatigue, recommended for those suffering from chronic fatigue. Diffusion in the bedroom is also recommended for its stimulating properties, it can help in case of decreased libido, sexual disorders, impotence or frigidity.
Natural remedy against diseases of the respiratory tract
The expectorant properties make it perfect for soothing respiratory tract diseases, in particular sinusitis, flu, laryngitis, allergy, asthma, to be inhaled combined with eucalyptus essential oil. You can In case of cough, you can associate it with thyme essential oil. For the fumigations you will need:
2 drops of eucalyptus essential oil
2 drops of thyme essential oil
2 drops of Scots Pine essential oil
boiling water
a bowl
towels
Bring the water to a boil, enough to fill the bowl halfway. Pour the water into the bowl, wait for it to cool and add the essential oils. Rest your head over the bowl while the water still evaporates. The inhalations should last 5 – 10 minutes to be repeated twice a day.
Natural remedy in case of urinary tract diseases
Thanks to its antiseptic properties, in aromatherapy it is used to relieve urinary tract disorders: it acts as an anti-inflammatory of the urogenital tract.
The internal or external use of this Scots pine essential oil to treat any pathophysiology must be performed under the close observation of an expert herbalist.
Against cellulite
In cosmetics it can be used for the preparation of toning ointments to be massaged into the skin. For the preparation of a good anti-cellulite, a 1% dilution in avocado oil is recommended.
---
Pine essential oil, where to buy it and price
Silvestre pine essential oil can be purchased in the most well-stocked herbalist's shops, in stores dedicated to natural products or by taking advantage of the online purchase. A 50 ml bottle of 100% Pure Sylvester Pine Essential Oil is offered at a price of $ 17 USD with free shipping.
When buying make sure you buy a  100% pure and unadulterated essential oil.
It combines well with cedar essential oil, juniper essential oil and lemon essence. A pine famous but not for its oil, is the Norfolk Pine.
---