---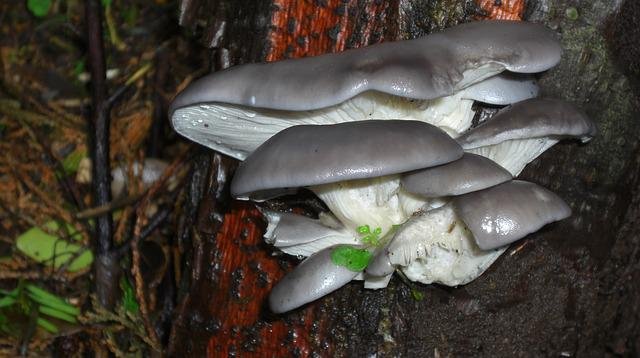 Pleorotus is a medicinal mushroom that contains beta-glucans and glycoproteins. Its main action is the effect against high cholesterol and is endowed with a powerful antioxidant action. Let's find out better.
---
Description of the mushroom
The name Pleorotus in Greek means "ear to the side", as this mushroom grows on live stumps and trunks of trees such as mulberry and poplar, forming the characteristic ears. It can be found isolated or in groups that form the typical waterfall with the hats positioned on a shelf; it smells like fresh flour and tastes sweet.
Ostreatus, on the other hand, derives from the Latin "ostrea" or oyster and, in fact, its hat recalls this mollusk.
We know that this mushroom has become part of popular medicinal cultures since ancient times and was used for therapeutic purposes in Europe, South America, Africa and China where it is called "ping gu" or "flat mushroom".
---
The properties of Pleorotus ostreatus
The Pleurotus mushroom has numerous interesting biological properties for which it is already found in ancient texts and in mycotherapy treatises.
It contains beta-glucans and glycoproteins, lovastatin, ostreostatin, laccase, lecithins, palmitic and linoleic acids, vitamins and minerals, iron, proteins and fibers.
Its main and most important action is the effect against high cholesterol, experimental data indicate that a regular intake of this mushroom counteracts arteriosclerosis even at the coronary level thus contributing to the prevention of heart attack.
This important action is due to the presence of high quantities of lovastatin, a substance that is found on the market in the form of a drug against hypercholesterolemia. This substance is in fact also present in fermented red rice which is used a lot in natural medicine precisely in hypercholesterolemia. 
Pleurotus works by reducing the absorption and hepatic biosynthesis of cholesterol.
Like all mushrooms it is also of great support on the immune system, helps to keep tumor growth under control, in particular it contains a protein Ostreolysin specialized in attacking neoplastic cells.
It is also equipped with a powerful antioxidant action and according to some researches it acts as a hepatoprotector even in the presence of an incorrect diet.
Anti- inflammatory properties comparable to certain drugs such as diclofenac have also emerged, it also inhibits platelet aggregation suggesting its potential use in cardiovascular diseases to prevent thrombus formation.
Thanks to the presence of beta-glucans, it delays the assimilation of sugars in the blood, proving to be useful in anti-diabetes therapy.
In diets aimed at weight loss it gives a sense of satiety.
This mushroom has been shown to be particularly effective on prostate cancer. The researchers found that it contains two substances that have interesting cytotoxic properties on cancer cells, Ostreolysin and a dimeric lecithin which are powerful anticancer agents.
---
When to use it
The main indications are: hypercholesterolemia, glycemia, diabetes, arteriosclerosis, cardiovascular diseases, prostate cancer, antioxidant, antitumor, antiviral, antibacterial, antibiotic, anti-inflammatory, useful in diets.
On the market it is found in the form of a powder or extract supplement and as we have seen it is useful as an anti-aging formula (antioxidant) and to treat hypercholesterolemia.
---