---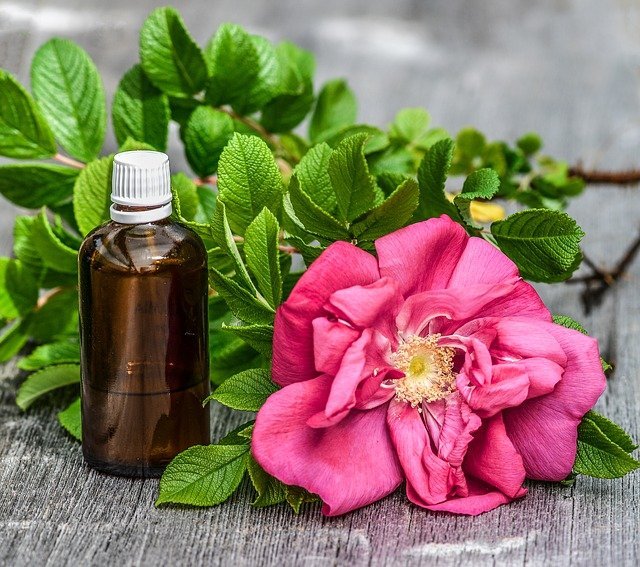 Rose essential oil: properties, uses, natural remedies, contraindications and do it yourself. All information on how to use this essential oil.
Rose essential oil is extracted from the Rosa damascena botanical species, a plant of the Rosacea family. It is popular for its many beneficial properties and is also among the more expensive essential oils.
This essential oil is extracted from the petals of the Damask Rose flowers with solvent extraction. Its heart note sees a soft, delicate and floral scent. Rosa damascena is a rustic shrub that produces fragrant flowers from May to July.
In natural DIY cosmetics, rose essential oil can be used for the preparation of anti-wrinkle creams, thanks to its smoothing properties. It is known for its  balancing, soothing properties and for its perfume which is perfect for preparing a do-it -yourself deodorant.
Properties of Rose essential oil
In aromatherapy, this essential oil is used to improve self-esteem and restore good mood.
Useful for the couple
Widespread in the bedroom, it serves to predispose spouses towards each other: it predisposes to tenderness and love, develops patience, devotion and improves self-esteem by counteracting performance anxiety. Useful for couples massage because it acts as a tonic against sexual asthenia.
For a relaxing bath
It can be used for a relaxing bath: it helps to ward off negative thoughts by balancing emotions and removing jealousy and stress.
Useful in pregnancy
Rose essential oil is also appreciated during pregnancy: it helps to face the birth with greater serenity and welcome the newcomer with love and sweetness.
Diluted in jojoba oil or sweet almond oil, it is indicated for massaging the skin before childbirth in order to prevent the typical post-pregnancy stretch marks.
Useful in menopause and in pre-menstrual syndrome
Thanks to its balancing properties, this essential oil appears to have a great impact on the female hormonal system. It would help to better cope with menopause and stave off the anxiety and irritability of PMS.
For soothing massages
The antispasmodic properties make it perfect for the preparation of soothing massage ointments: massaged on the belly it acts as a soothing in case of abdominal spasms or menstrual pain.
For face care
Its use is also suitable for the most delicate skin. It has an astringent action, very useful for those with enlarged pores. The astringent properties are perfectly combined with the toning properties: these are the bases that make rose essential oil the right ingredient for the preparation of DIY anti-wrinkle creams.
Where to buy rose essential oil
As stated, rose essential oils are among the most expensive essential oils on the market. The high price is justified by the yields: 3.5 to 5 tons of rose petals are needed to produce just one liter of essential oil! A single drop of rose essential oil contains the fragrance and aroma of about 30.
Prices increase when buying essential oil of Damask rose from Bulgaria, this is because the climatic conditions of the Balkan mountain in Bulgaria are supposed to make the roses particularly aromatic and suitable for the production of the essence.
The quality of the essential oil of the Bulgarian rose is defined as the main one by the perfume industry all over the world. Given the high costs, there are not many herbalists who have an immediate availability of this essential oil.
Rose essential oil, like any other essential oil, cannot be used pure on the skin: given the high concentration of active ingredients, essential oils must be diluted in carrier oil.
Given the high costs of rose essential oil, there is no lack of already diluted solutions on the market, but the quantity of active ingredients of the o.e. of pink decreases dramatically.
---