---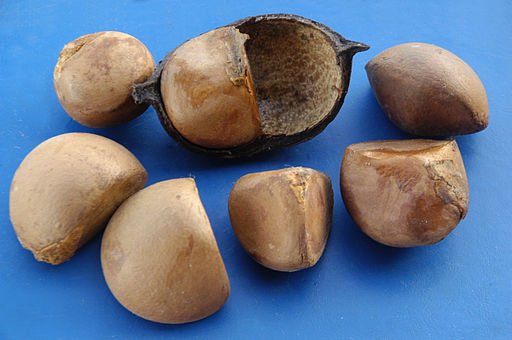 Andiroba oil is a vegetable oil obtained by pressing the seeds of the Carapa guianensis tree, native to the Amazonian areas of South America. Rich in oleic, stearic, palmitoleic, linoleic, miliacin and limonoid acids, it has an antibacterial, anti-inflammatory and healing action.
Andiroba oil, in fact, is useful to soothe insect bites, to heal scratches or wounds and to counteract the formation of cellulite. Also used to relieve muscle pain, against lice and to strengthen and regenerate weakened hair, in some countries it is also used to prepare an herbal tea useful against cough and sore throat.
A vegetable oil with a thousand properties, perfect for psoriasis, skin inflammation, anti-pain massages: we know all the uses of andiroba oil
Andiroba oil (Carapa guianensis) is a vegetable oil that is extracted from a tree from the Amazonian areas of South America. It is a fairly delicate plant, which grows in swampy areas and can even reach up to 10 meters in height.
From its fruits, or rather from the seeds of the fruits, or from the walnuts of polygonal shape, the oil is extracted, while from the trunk the wood used for the production of furniture or furnishing objects is obtained.
To make a liter of straw oil it takes more than 5 kilos of nuts. The singular thing is that the nuts are harvested from the rivers, since only by falling to the ground in the swampy areas the capsules open and are carried by the current; these contain from 4 to 6 seeds, which are then boiled and left to macerate for days on end; then, once decomposed, they are cold pressed and from there the precious oil comes out.
---
Andiroba oil: properties and where to buy
Still little known by us, it is part of all those supernutrient South American vegetable oils with remarkable beneficial properties. Andiroba oil specifically contains oleic, stearic, palmitoleic and linoleic acids, but also milestones and limonoids.
Thanks to these valuable substances, it has antibacterial and anti-inflammatory, emollient, protective, healing, analgesic and insect repellent properties.
---
Uses of andiroba Oil
Thanks to the properties described above, andiroba oil lends itself to being used for:
soothe insect bites, but also as a natural repellent to spread on the skin
heal scratches or abrasions
counteract the formation of cellulite
fight acne, but also eczema, psoriasis, herpes, rashes, mycosis of the skin
to heal swelling, bruising, edema and regenerate inflamed tissue
as a massage oil, used together with a carrier oil, to relieve rheumatism, low back pain, forms of osteoarthritis or arthritis
to relieve muscle pain, excellent for warming up athletes, it can also be applied diluted in shea butter
for the treatment of lice, to be massaged directly on the scalp
to strengthen and regenerate weakened hair
to protect wooden furniture from termites or other insects
---
Where andiroba oil is used
The therapeutic properties of andiroba oil are not only known in Brazil, but also in other countries such as Peru, Venezuela, Trinidad, Guatemala, Nicaragua, Guyana, Panama.
Here it is also used to make candles or soap, and, thanks to the leaves and bark, a digestive and cough-calming tea is obtained Other names by which the plant is known are andirova, angirova, carapa, crespi, camaçari or chestnut-mining.
Warnings: it is absolutely not indicated for oral use.
---