---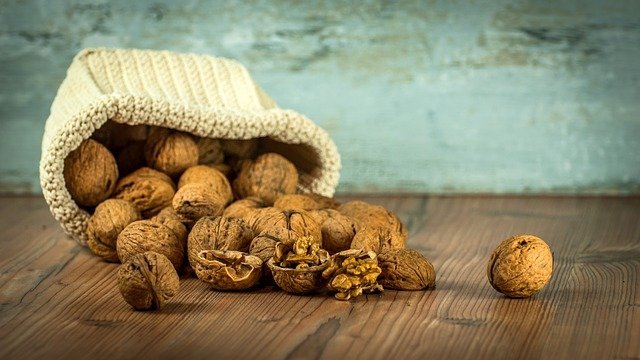 Walnut oil is obtained by cold pressing from walnut kernels deprived of the husk, collected and left to dry for a few days. Now its production, previously very widespread in Valle d'Aosta and Piedmont, is limited to mountain areas and small production companies.
Walnut oil is rich in Omega 3 and Omega 6, has a remarkable content of vitamin E, and has high antibacterial and antiviral properties. Useful to protect the cardiovascular system, it is used in nutrition and cosmetics.
The properties, benefits and uses of walnut oil from nutrition to cosmetics. A product as precious as it is little known
In areas where olive oil is not produced, an oil made from nuts is traditionally made and used.
---
Walnut oil, how to get it
The kernels of the walnuts, deprived of the husk, are left to dry for a few days, and then be pressed with a press and cold pressed.
The production of walnut oil is limited to mountain areas and small production companies, and cold pressing is often replaced by hot pressing, which originates a less valuable product from a nutritional point of view.
---
Walnut oil and its properties
Walnut oil consists of a small percentage of saturated fats (less than 10%) and a higher percentage of unsaturated and polyunsaturated fats, about 60%, including the precious Omega-3 and Omega-6; for the rest they contain proteins, mineral salts (zinc, calcium, potassium and iron) and vitamins (E and C) that make it a valuable nutritional source for health.
It is a product that also has high antibacterial and antiviral properties, protects the cardiovascular system and is useful for combating chronic inflammations such as rheumatoid arthritis; it is antioxidant, remineralizing and fights free radicals.
---
Walnut oil for feeding
It is consumed raw, it is not indicated for cooking food. Walnut oil is used in small raw doses on pasta, soups, soups, velvety and rice; in salads and on vegetables, as vinaigrette and to flavor the various protein dishes.
A good idea can be to use it instead of extra virgin olive oil for cold condiments for pasta, such as walnut pesto or Sicilian pesto, with ricotta and cherry tomatoes.
One hundred grams of walnut oil provide about 900 calories, its taste is delicate, peculiar, slightly bitter. Ideal for vegetarian recipes.
Attention: it is an oil that goes rancid quickly, so it is good to consume it as soon as possible, however within three months of production, with storage in dark glass bottles and away from sources of light or heat.
---
Walnut oil in cosmetics
It is ideal for skin care especially for impure and oily skin, it is absorbed very quickly and is suitable for cosmetic use. This oil is obtained from the maceration of walnut husk and is rich in vitamin C.
It is used for the production of moisturizers and soaps; it is also often among the components of tanning creams, being able to stimulate the production of melanin. The fats it contains also make it a valid natural filter against the harmful effects of the sun's rays.
It is also used for hair: the husk contains an antiseptic and keratinizing substance, which promotes cell renewal. The decoction of the leaves of the walnut tree is used instead as a natural dye, as it gives delicate dark reflections and invigorates the hair, counteracting hair loss.
Finally, thanks to its soft and flowing texture, the preciousness of its nutrients and the fact that it makes the skin extremely elastic, it is used with increasing frequency as a massage oil, sometimes added with wheat germ oil or sweet almond oil and heated in the hands before use.
---
Sweet and nutritious scrub recipe with walnut oil
Ingredients:
> 2 tablespoons of walnut kernels,
> 3 tablespoons of walnut oil,
> 1 tablespoon of honey.
Preparation
Pass all the ingredients in the mixer until you create a dough that is not too fine. Gently massage the areas that require it: sides of the nose, forehead, chin, hands, feet, knees and elbows. Leave on for a few minutes and rinse.
---
Curiosity
Walnut oil is used as a thinner for oil painting is especially appreciated, as it dries quickly and does not have a strong smell like turpentine oil; it is also used in the industrial production of paints.
---