---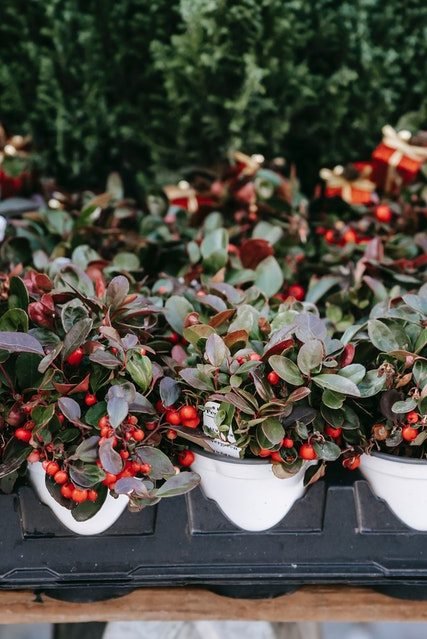 Wintergreen essential oil : properties, uses and natural remedies with the essential oil of Gaultheria procumbens, better known as American Wintergreen.
The essential oil Wintergreen is extracted from the botanical species wintergreen, native to North America and South Alabama. It is a species belonging to the Ericaceae family.
---
Properties and uses of Gaultheria procumbens
The wintergreen is a ground cover shrub that reaches a height of just 15 cm. It grows best in acid soils, covers deciduous forests although it generally produces more berries in sunny areas.
The berries are small fruits where the capsule is surrounded by a fleshy calyx with a diameter of 6-9 mm. It has leaves 1-2 cm wide and up to 5 cm long, the leaves give off a strong smell, the same that is found in its essential oil. The flowers are bell-shaped, 5 mm long, white. The beneficial properties of this plant are found not only in its essential oil but also in herbal teas, and with other preparations based on berries and leaves.
The fruits of Gaultheria procumbens are edible and have a sweet taste. The leaves and branches are dried and then given life to infusions and herbal teas. The flavour of Wintergreen is so famous that in the areas of origin of the plant there is a homonymous ice cream flavour prepared with its extracts, very famous are the Clark Teaberry chewing gums, always inspired by the Gaultheria procumbens species.
The wintergreen plays an important role in maintaining wildlife: the berries persist throughout the winter season and are the only food source for other animals such as the grey squirrel Virginia, eastern chipmunk, red fox, wild turkey, the white-tailed deer… and many other wild animals.
For a long time, Native American tribes have exploited Gaultheria procumbens as a medicinal plant.
---
Wintergreen essential oil
To extract the essential oil, the leaves of Gaultheria procumbens must be fermented for at least three days.
Wintergreen leaves have been used since ancient times to soothe respiratory problems and inflammation such as coughs, sore throats and colds. The plant, as well as its essential oil, can be used to relieve muscle pain, tension and stiffness.
Where to buy Wintergreen essential oil ? Although it is a very popular essential oil, it is not easily available on the market. It is possible to buy it only at the most well-stocked herbalists or you can order it online. For aromatherapy use, just add a few drops in a diffuser. For a warm belly massage with beneficial digestive effects, you can dilute wintergreen oil with other carrier oils.
---
Properties of Wintergreen essential oil
Useful in case of bruises
It has analgesic properties , indeed, this essential oil owes its fame precisely to its powerful analgesic effects: if rubbed into a painful area, thanks to the presence of Menthyl salicylate, this oil induces numbness and has an almost anesthetic effect.
Soothing massage against rheumatic and joint pain
An ointment based on Wintergreen essential oil can be used for joint massages to release muscle tension. In higher concentrations the same ointment can be used to relieve rheumatic and joint pain.
5 drops of Wintergreen essential oil in a tablespoon of almond oil to release muscle tension.
8 drops of Wintergreen essential oil in a tablespoon of almond oil to soothe rheumatic pains.
To the antirheumatic properties are added the antispasmodic, antiseptic, astringent, diuretic and carminative properties. Thanks to its multiple properties, the essential oil of Gaultheria procumbens is a useful natural remedy to combat menstrual pain and abdominal spasms associated with poor digestion.
---