---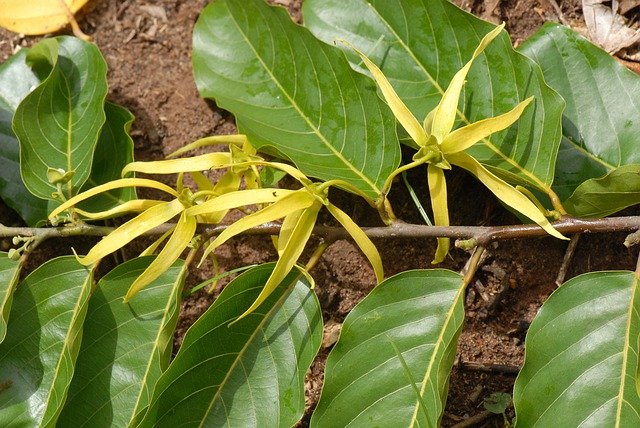 The essential oil of Ylang ylang (or ilang ilang) is extracted from the Cananga odorata plant, Kenanga in Indonesian, a tropical tree native to the Philippines and appreciated worldwide for its scents.
---
Ylang Ylang: plant and flower
It is called Cananga odorata and it is the plant from which the ylang ylang essential oil is extracted. The yalng ylang tree is native to Indonesia, Malaysia and Philippines.
It is cultivated in other areas of the world for its properties and above all for the scent of its flowers. To emphasize its good scent, the tree is commonly known as a scented cananga.
Fortunately, cananga odorata is a fast growing plant: it can grow up to 5 meters in a year. It reaches an average height of 12 meters. Its leaves are smooth and pointed, they are 13 to 20 cm long. The most interesting part of the plant is the flower.
The flower is long, characterized by 6 narrow petals typically yellow or greenish, only rarely are the flowers pink. The flowers resemble a starfish (serpentine star) and it is from the flowers that the essential oil is extracted.
---
Chemical composition
The essential oil ylang ylang is very used in aromatherapy and is appreciated for its chemical constituents. Ylang-ylang essential oil is well researched. Of its composition we highlight the following compounds.
Linalool
Used a lot in the perfume industry and for the preparation of natural detergents. According to studies linalool would be able to relieve stress.
Germacrene With
strong antimicrobial and insecticidal properties.
Geranyl Acetate
This compound is also widely used by the perfume industry, it is often found in lavender or rose creams, and is exploited for its sweet aroma.
Karyophyllene
It is also found in rosemary essential oil and contributes to the spicy flavor of black pepper. It is used as a food additive and appreciated for its neuroprotective, anxiolytic and anti-inflammatory properties.
Methyl benzoate
It is used in the perfume industry and also in agriculture as a bait in natural pesticides.
Sesquiterpene and p-methyl ether cresyl
Some of the compounds of this essential oil seem to relieve hypertension, normalize the secretion of sebum both in the skin and in the scalp. This is why ylang ylang essential oil appears to be excellent for skin and hair care.
---
Ylang ylang essential oil: properties
From its chemical composition, it is clear that ylang-ylang essential oil is used in aromatherapy to relieve stress and soothe the senses. It is used as a natural remedy to relieve high blood pressure, to normalize the sebaceous secretion of the skin (useful for those suffering from acne, oily skin and oily hair ) and as a natural aphrodisiac.
Arguing for its effectiveness as a natural aphrodisiac was, among others, the anthropologist Margaret Mead. As a natural aphrodisiac it is widely used in the islands in the South Pacific: in Indonesia, ylang ylang flowers are placed between the sheets of the bride and groom on the first night of their wedding. In the Philippines, ylang ylang flowers are composed to form garlands to be worn as necklaces by young women: the aroma given off by the flowers, in addition to having an aphrodisiac effect, would improve fertility.
Due to its aromatic compounds and its good smell, ylang-ylang essential oil is widely used in perfumeries for the preparation of sweet and floral essences and in oriental perfumes.
To make a moisturizing body ointment, simply dilute a few drops of ylang ylang essential oil in a tablespoon of sweet almond oil. The ointment thus prepared can be used for the skin of the face as well as for the skin of the body.
If you want to prepare an emollient mask for oily hair, you can prepare it by diluting a few drops of ylang ylang oil in a tablespoon of jojoba oil or coconut oil.
For those who want to prepare natural fragrances, the ylang ylang essential oil goes well with all floral and wood essences. In this perfume there are notes of neroli and jasmine; no wonder as they share some aromatic compounds.
---
Where to buy it and price
The essential oil ylang ylang can be purchased at shops of natural products or through online trading.
If you are considering making a homemade perfume, know that ylang ylang essential oil combines well with rosewood, jasmine, cedarwood, rose, geranium and bergamot.
---