---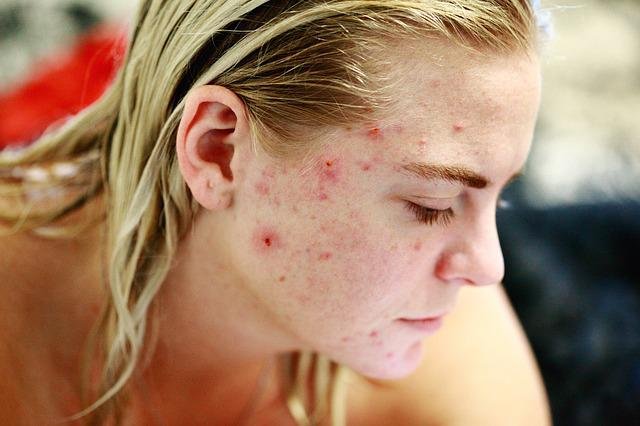 Alleviate acne with the help of Schuessler salts – this is the hope of many sufferers. For acne with predominantly oily skin, for example, No. 9 sodium phosphoricum is recommended. If the acne mainly covers the forehead, chest and back, No. 11 Silicea is said to be helpful. A combination of several salts is often recommended. Read here which Schuessler salts are supposed to improve acne.
---
Schuessler salts: acne treatment
Acne (acne vulgaris, common acne) is a common skin disease, especially during puberty. The hormonal change causes nodules and pustules to "bloom" on the skin, which become inflamed with pus. They usually form on the face, sometimes also on the back and chest – a great psychological burden for many sufferers.
The conventional medical treatment of acne includes various internally or externally applied medications. In addition, many sufferers want to alleviate skin problems with alternative methods such as Schuessler salts. Which Schuessler salts are best used to combat acne depends on the specific circumstances of the skin disease. Some examples:
If you want to treat acne with predominantly oily skin with the help of Schuessler salts, we recommend No. 9 sodium phosphoricum D6.
Tablets and ointment No. 3 Ferrum phosphoricum D12 are recommended as Schuessler salts against acne with inflammatory pustules accompanied by redness, swelling and itching.
Naturopaths recommend the number 11 of the Schuessler salts against pimples, pustules & Co., which mainly appear on the forehead, chest and back. The 12th potency is used (Silicea D12).
#2 Calcium phosphoricum, #8 sodium chloratum, #9 sodium phosphoricum, and #10 sodium sulfuricum are also often used. These Schuessler salts are said to relieve acne that occurs as a result of taking the pill.
Calcium fluoratum ointment No. 1 is said to help with hardened acne pustules.
Tablets and ointment of the No. 10 sodium sulfuricum D6 are used as internally and externally applied Schuessler salts to relieve acne, which is very aggressive and violent. Alternatively, one of the following remedies can also be used here: No. 21 Zincum chloratum 6X, No. 23 Natrum bicarbonicum 6X, No. 24 Arsenum jodatum 6X or No. 15 Potassium bromatum 6X.
The number 13 of the Schuessler salts may be helpful for women: Acne that occurs during the menstrual period should be treated with potassium arsenicosum D6.
---
Schuessler salts: Acne therapy with multiple salts
Different starting points – higher chances of success: Acne should usually be treated more effectively with a combination of several Schuessler salts than with one salt alone, say representatives of the doctrine. For example, the combination of the following Schuessler salts is said to relieve acne during puberty:
Nr. 3 Phosphoric acid
Nr. 4 Potassium chloratum
No. 9 Sodium phosphoricum
Nr. 11 Silica
Nr. 12 Calcium sulfuricum
No. 24 Arsenum jodatum
#14 Potassium Bromatum (for acne all over the body)
It should be particularly useful to use this Schuessler salt combination as a cream gel. The same applies to the following Schuessler salts (acne vulgaris in general): No. 3, No. 4, No. 9 and No. 11.
---
Schuessler salts: Acne therapy combined with homeopathy
Homeopathic remedies can relieve acne symptoms as a support of various Schuessler salts.
A possible intake scheme is based on the Schuessler salts No. 9 sodium phosphoricum and No. 10 sodium sulfuricum as the main agent. They are taken daily as a "Hot 9" (evening) and a "Hot 10" (morning). No. 11 Silicea is also recommended as a stabilizing agent. Overweight people also receive the homeopathic Hepar sulfuris D12. Slim people take another Schuessler salt instead: No. 2 Calcium phosphoricum.
Individual factors may influence the duration of use and dosage of the homeopathic and the Schuessler salts. Acne patients should therefore seek advice from an experienced therapist.
---