---
Rosemary essential oil:  properties, benefits, uses and tips to make the most of it for body care and natural cosmetics.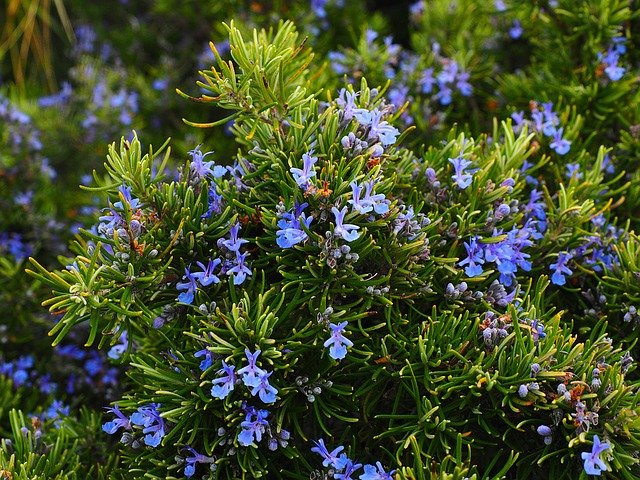 The essential oil of rosemary are derived from Rosmarinus officinalis, a plant of the Labiatae family. This essential oil is popular for its many beneficial properties. Rosemary has always been known for its stimulating and purifying properties, so its essential oil is also used for its multiple cosmetic and therapeutic properties.
---
Rosemary essential oil, benefits on the hair
The essential oil of rosemary includes interesting properties dandruff, is perfect for the natural treatment of oily hair, to skin care, solar eczema and relieve muscle aches. For hair, rosemary essential oil seems to act as an anti-fall remedy and above all to stimulate hair growth in case of stress or conditions such as alopecia.
The essential oil of rosemary includes interesting beneficial properties to be exploited for skin care and hair. The essential oil of rosemary is great to treat oily hair, to remove dandruff and re-balance the scalp. To treat oily hair and combat dandruff, packs are made with essential oil of rosemary and jojoba oil.
To re-balance the scalp, experts recommend adding 2 drops of rosemary essential oil to a neutral shampoo for frequent use.
Rosemary essential oil to improve memory, concentration and mood
The essential oil of rosemary is used to improve concentration and memory. It is perfect to use as an essence to perfume the work environment, the library or the study area.
In aromatherapy it is also used to relieve nervous tension and performance anxiety. Used as an air freshener, it would be able to improve air quality as well as increase good humor. To make the most of the benefits of aromatherapy, you can count on essential oil diffusers.
Aromatherapy with rosemary essential oil is recommended in case of chronic fatigue or fatigue that can also affect memory. The essential oil of rosemary, thanks to the properties of its intense aroma, would be able to stimulate and invigorate the senses, giving energy and vitality to the mind and body.
Rosemary essential oil, therapeutic properties
The properties of rosemary essential oil are linked to the presence of phytochemical compounds such as camphene, camphor, limonene, cineole, pinene, borneol. The chemical composition of an essential oil can differ greatly depending on the cultivar or place of cultivation, therefore it is not possible to report precise estimates on the percentage of components. Generally, a good essential oil of rosemary has a high content of camphor and cineole.
The essential oil of rosemary was effective in relieving pain and inflammation in people suffering from rheumatoid arthritis and osteoarthritis but did not give any evidence when clinical trials were conducted on people suffering from fibromyalgia. Due to its anti-inflammatory properties, this oil can be used for the preparation of a massage ointment to relieve typical arthritic pains.
For internal use of rosemary essential oil has proved to be a good gastric protector, which is useful in the prevention of ulcers. According to a study, this essential oil may be even more effective than Omeprazole, a famous gastric protector.
Rosemary essential oil properties for the skin
For skin care it can be used to dab in case of acne or eczema, to perfume DIY face creams and is especially recommended in case of oily skin. For skin or face care, this essential oil is indicated for oily, combination skin or for those who tend to have problems with pimples or inflamed blackheads.
This is because, thanks to its disinfectant and anti-inflammatory properties, it prevents the appearance of pimples and improves the health of the skin. To make the most of its cosmetic properties , it is best to dilute it in borage oil.
Rosemary essential oil, cosmetic properties
The essential oil of rosemary is widely used in aromatherapy, as to be included among the essential oils that can never be lacking in the house. On a physical level, rosemary has strong purifying powers, helps eliminate toxins and, thanks to its diuretic and draining properties, serves to eliminate excess water.
For body care, rosemary essential oil can create an excellent massage oil to use in case of muscle tension, pain, bruises and neck problems. A few drops of rosemary essential oil, diluted in almond oil, can create a soothing massage liquid to be used in case of:
Water retention
Anti-cellulite massages
Circulatory disorders
Nervous tension and stress
Headache
Muscle tensions and pains
Neck pains
Other uses of Rosemary essential oil
The essential oil of rosemary can be used for domestic production of detergents and cleaners, to make scented candles or to make soap at home .
Rosemary essential oil, contraindications
Rosemary essential oil should never be used pure on the skin but, like any other essential oil, you must dilute it in a carrier oil before use.
The essential oil of rosemary for internal use, if not used in low doses, can have neurotoxic effects, trigger convulsions and epileptic seizures. Internal use is not recommended for pregnant or breastfeeding women.
Where to buy Rosemary essential oil
It is possible to buy rosemary essential oil, as well as other essential oils, in the most well-stocked herbalists and shops specialized in the sale of natural products.
Those who prefer can take advantage of online shopping where prices are very competitive.
Regardless of the product you choose, always make sure you buy a 100% pure essential oil, undiluted and above all unadulterated.
---